How to read your monthly bill
Electricicty Express wants to help you understand all the charges on your electricity bill
Each month we receive our electricity  bill, and most likely you have no idea what all the taxes, charges are, like  TDU delivery charges,transition charge, and many more. Today I am going to explain what some of those charges are, that way you can see if your electricity company is charging you the kwH rate that was offer at the beginning of your contract.
Every bill is different, but most likely you will find your account number on the top of the bill, next to your name and service address.
ESI ID number
is very important, this number shows the physical address where you receive your electricity.  The utily uses the ESI ID number to know exactly the amount of electricity you used per the month.
Bill Period, is the period where your service period starts and  ends.
Energy Charge
is a charge based on the electric energy kWh consumed. TDU delivery charge is to cover the cost of moving electricity from the generation plan to your home, the TDU delivery charge is also use to keep  the electric post, meter,and clabes, in good condition.
We also have the Meter charge,Transition charge, etc. City sales tax vary by each city. To learn more about your electricity monthly charges you can visit the Public Utility Commison of Texas (PUC)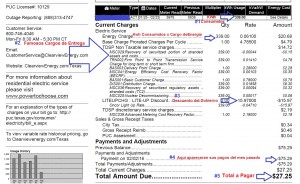 Electricity Express advantages, Prepaid & Postpaid Electricity Services.
Same day Connection – No Extra Charge 
See how much you save every day (prepaid)
​Competitive Rates
​No Contracts (prepaid)
No Reload Fees
​Pay – As – You – Go    EZ-Flexpay (prepaid)
​No Deposit (WAC or prepaid)
​World Class Customer Service
​Extended Hours for Sales
True Electricity – Pay What You Use
Daily Notifications of Usage (prepaid)
Lite-Up Texas Program is Welcome [1]
Call us today to speak to a live prep…
888 509 7251
Electricity Express is here to help… #electricityexpress
For more saving ideas follow our blog or videos.
Lite-Up Texas aplications
https://www.liteuptexas.org/newonlineapp/Info.aspx
https://www.electricityexpress.com/power-blog/