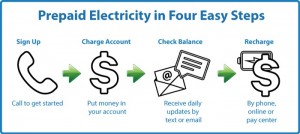 Is Prepaid Electricity a Good Option?
Let's start by explaining what Prepaid Electricity is, prepaid electricity is a type of plan that allows customers to pay their electricity in advance,  this means you pay for electricity before you consume it. With post pay electricity you pay for your electricity after you use it.
Benefits of Prepaid Electricity
You can manage your prepaid electricity from your phone by text or e-mail, as the company will send you a text or e-mail message telling you how much electricity (kwts) you used and how much money you have left in your account. With Prepaid Electricity you do not need to have a social security number, ID, or good credit. All they ask for is your name, cell phone number (to receive your notifications by text), service address and your date of birth.
Prepaid Electricity is Good Option
But is not for everyone. Prepaid Residential Electricity is more convenient for those who move from their apartment or house, every 3-6 months, or for people who do not want to be in a electricity service contract. With Prepaid Electricity you will not receive a bill every month, since your usage and balance is calculated daily. Prepaid electricity also has a kilowatt rate a little bit higher than postpaid electricity, this is because you don't have a contract.
Prepaid Electricity is Good because it does not check your credit. It is not necessary to have credit; As you are paying for electricity before using it, no social security number or any other type of identification is required.
Prepaid Electricity is good
Because it tells you how much energy you spend, by receiving text messages every day; Some customers think this is not convenient, but it is a good option if you are on a budget, because you will know how much electricity you are using daily and can make a more accurate budget, also you can start saving more energy.
Prepaid Electricity is good
Because it is easy to create an account. When you call Electricity Express, you will spent around 10 minutes on the phone with one of our representatives  to complete your prepaid residential electricity order, after that, your service will start within 2 hours or less. We had customers get their service connected within 20 minutes after their order was completed.
Electricity Express advantages, Prepaid & Postpaid Electricity Services.
Same day Connection – No Extra Charge 
See how much you save every day (prepaid)
​Competitive Rates
​No Contracts (prepaid)
No Reload Fees
​Pay – As – You – Go    EZ-Flexpay (prepaid)
​No Deposit (WAC or prepaid)
​World Class Customer Service
​Extended Hours for Sales
True Electricity – Pay What You Use
Daily Notifications of Usage (prepaid)
Lite-Up Texas Program is Welcome [1]
Call us today to speak to a live prep…
888 509 7251
Electricity Express is here to help… #electricityexpress
For more saving ideas follow our blog or videos.
Lite-Up Texas aplications
https://www.liteuptexas.org/newonlineapp/Info.aspx
https://www.electricityexpress.com/power-blog/