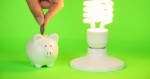 I pay less energy at home.
Hello my dear friends. In this blog I want to share some of the changes I made to save electricity so I pay less energy at home. Before my friends talked to me about how I could save energy and followed the steps for a few days only and then I came back to the same routine. I was never aware of my energy usage until the bill came with a very high amount due.
The reasons for my guzzling were many: One is that my power company was very expensive and one that I had no idea of ​​how to save energy. My air conditioning as running all day long, I had the lights and television turned on at all times and I also used hot water for everything. My children and I did not of what we spent on energy. My bill each month was higher and I would have the idea of ​​how to save on electricity to pay less.
An air conditioner has to be around 70 to 75 degrees AUTOMATIC so it only works when the temperature is higher or lower, otherwise the A/C will be on all the time and it will consume a lot of electricity.
I use prepaid electricity and today I pay less energy at home.
Thank God one day looking for work I met my current manager, he was looking for someone for his electricity company, I had my interview and I got hired and I started working for this broker. That was when I started working and got the necessary information and this is how I pay less energy at home.
Electricity Express was my salvation, indeed friends, I gradually did change our habits at home with my children until today we learned, while paying a bill of more than $ 250.00 for a month, today I can proudly say that my power consumption is not even a third of what I used to waste and paid, now pay up a minimum of $ 60.00, so I pay less energy at home. I changed my power company which I was getting a monthly bill for a prepaid electricity service, where I receive every day a message with the energy usage, letting me know what my daily spending is. It's amazing how my consumption went down to the present day. I can say that my daily usage average is about $ 2.00 a day.  Excellent, this is a super energy saving, and if I could save with Electricity Express services, you can too.
Electricity Express has the Best Electricity Companies
I want to invite you to follow our blogs #electricityexpress. This is how I pay less energy at home. We have a lot of information on how to save energy. It is true that there are companies that sometimes abuse and charge us extra for the energy we use, but it is also true that they only charge us for the energy we consume and if we add that the price of KWh and if that kWh rate was high, well there you have the problem. Beware of what you are buying before they lock you with a high rate and a high bill.
Electricity Express advantages, Prepaid & Postpaid Electricity Services.
Same day Connection – No Extra Charge 
See how much you save every day (prepaid)
​Competitive Rates
​No Contracts (prepaid)
No Reload Fees
​Pay – As – You – Go    EZ-Flexpay (prepaid)
​No Deposit (WAC or prepaid)
​World Class Customer Service
​Extended Hours for Sales
True Electricity – Pay What You Use
Daily Notifications of Usage (prepaid)
Lite-Up Texas Program is Welcome [1]
Call us today to speak to a live prep…
888 509 7251
Electricity Express is here to help… #electricityexpress
For more saving ideas follow our blog or videos.
Lite-Up Texas aplications
https://www.liteuptexas.org/newonlineapp/Info.aspx
https://www.electricityexpress.com/power-blog/